​​​​​​​

Created user interface designs for Yoga Warriors Fighting Cancer website to raise money for cancer.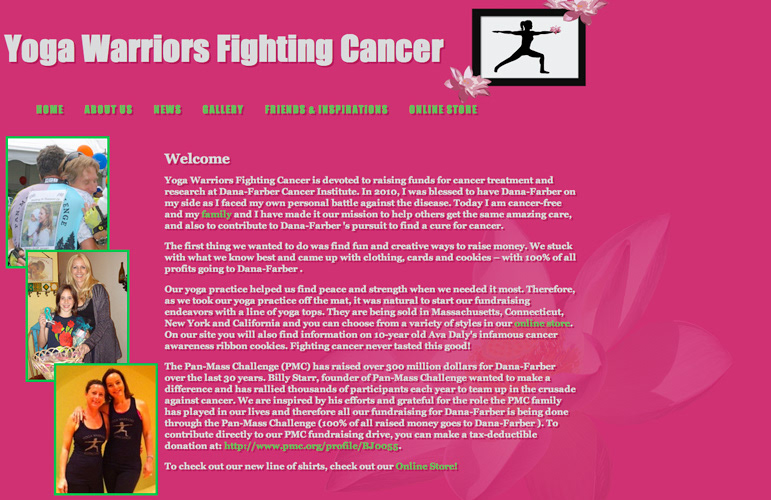 THE STORY BEHIND YOGA WARRIORS FIGHTING CANCER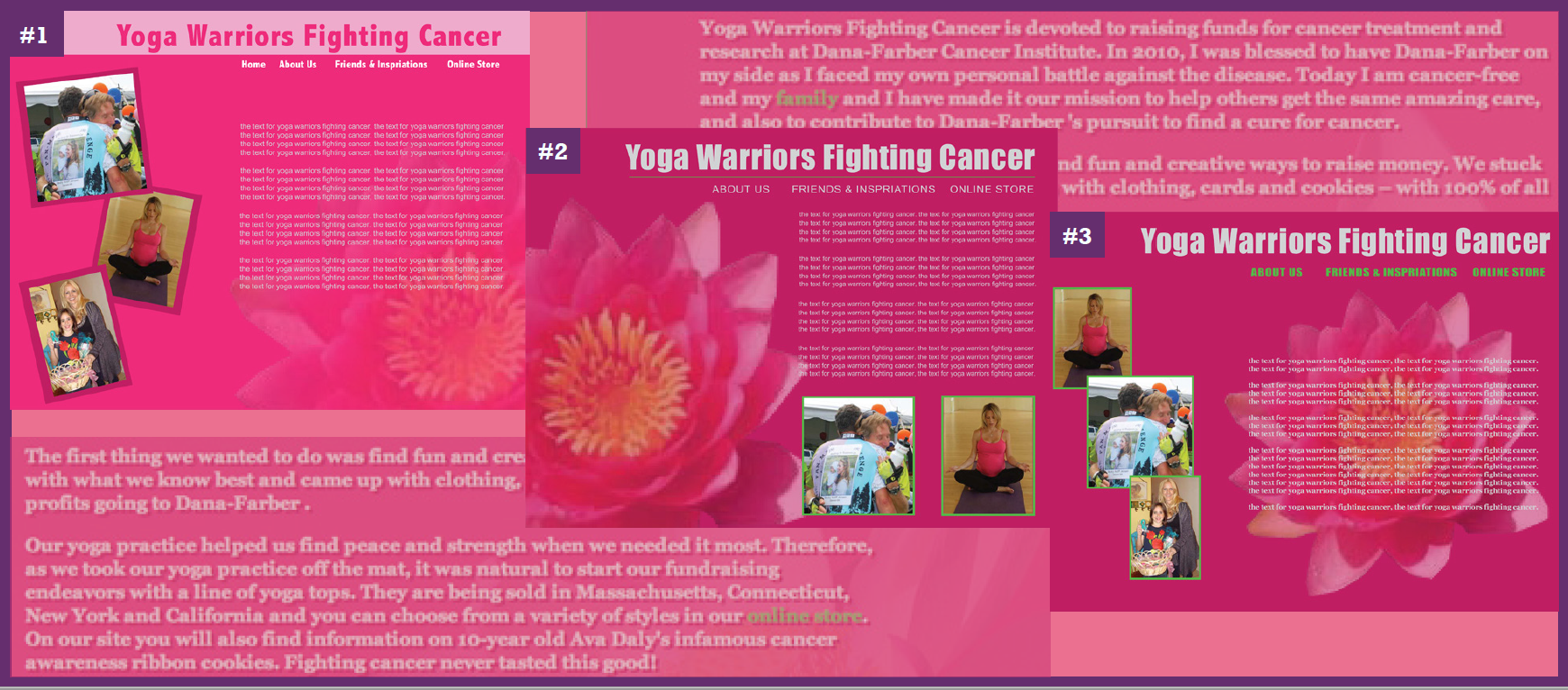 During my years working at publishing companies, I took on web development projects with Christopher Grandoit, a web developer in Boston. Yoga Warriors Fighting Cancer was the first client. A fundraising website was needed for Ava, who wanted a website to raise money for cancer benefiting Dana Farber as she was now cancer-free.
Christophe

r Grandoit designed the Yoga Warrior logo. I created three draft designs with the client's wants in mind - design to reflect rebirth, incorporate lotus flower into the background, and use shades of pink. At the time of designing drafts, the content was not ready. The 3rd design, seen above, was the favorite layout. 
The website became a place for Ava's family, friends, and other customers can purchase yoga clothing benefiting Dana Farber and staying in touch during Ava journey of fundraising. 
I have used Stephanie's service on multiple occasion's to put together mockups for website. She has a great quality of work and her turn-around time is exceptional.

- Christopher Grandoit, Web Developer
THE STORY BEHIND SPLASH SALES AND NOVA SALES ASSOCIATES
Below are other stories behind other clients' website concepts I collaborate with Christopher. During this process, I developed skills in digital mockups and strategic thinking on rebuilding websites with keeping company branding in mind. 
Working on Nova Sales Associates and Splash Sales projects lend to opportunities in web design at Grand Circle Travel and Bingham McCutchen LLP.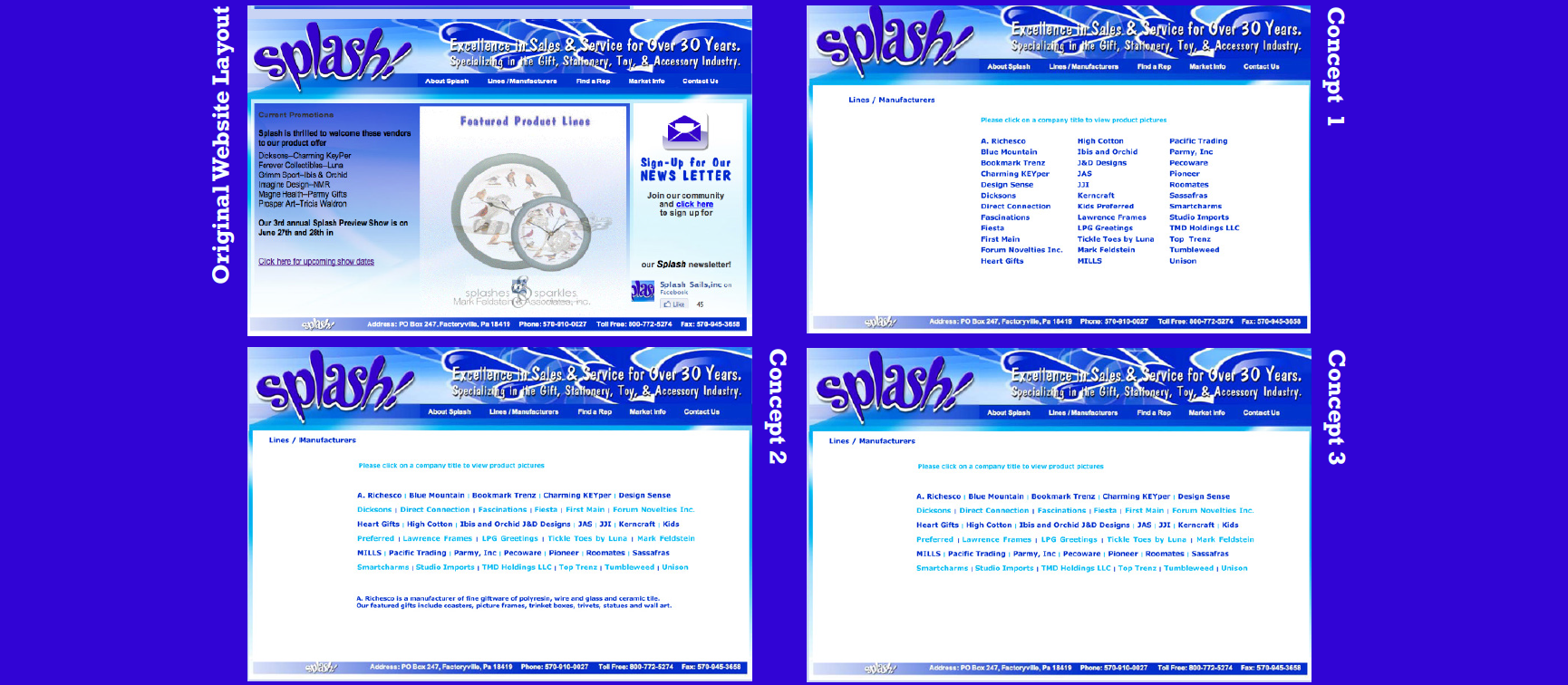 Improve the Lines & Manufacturers page of Splash Sales was needed by the owners of Splash Sales.
Splash Sales outdated layout was the names, logos, and a description of each Line & Manufacturers before entering into the specific Line & Manufacturer pages. I built a total of 3 concepts that were easy to navigate and visually appealing and organized. The mockups showcases Lines & Manufacturers of Splash Sales in a professional look without the busiest of too much information. The owners loved the concept of all their Lines & Manufacturers compiled into a list format. During the time of the project,
Splash Sales ended up closing, 
as a recession was taking place.

The owners of Nova Sales Associates wanted an updated design to increase and gain revenue with a fresh look for their website.
THE SOLUTION
I produced 5 (top 3 seen above) website concepts showcasing a new appearance on each using NSA branding colors. The first part of the redesign project was to create mockups for their homepage. As a designer, it was great to have the freedom to create. After months of the decision, Nova Sales Associates owners decided on one of my concepts, however, the redesign project and next steps were on hold. The finished product turned into a new direction for the company as Nova Sales Associates ended up closing their business.